The intriguing story of Our Historic Mystic, CT Hotel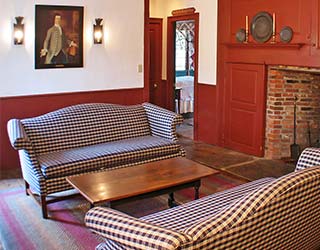 The story of Whitehall Mansion begins in 1771 when Dr. Dudley Woodbridge purchased a plot of land from Lieutenant John Gallup. Dr. Woodbridge began building Whitehall Mansion on a site where a tavern and stagecoach once stood. He married Sarah Sheldon and the two raised a family of nine children in the mansion. The children all married and eventually moved away, with the exception of a daughter who never married and a son who passed away at age 12.

Dr. Woodbridge died in 1790 followed by Sarah in 1796. At that time, the mansion fell into the position of the Rodman family, who were related to the Woodbridge's. Between 1825 and 1850, the Rodman's resided in the mansion, then sold it to Joseph and Mary Wheeler in 1852. The Whitehall Mansion would remain in the Wheeler family until 1962, while their youngest daughter Florence Grace, who was born in the mansion in 1886, resided there.

In 1962, a highway expansion project threatened the mansion. To prevent demolition, the mansion was moved, restored and given to the Stonington Historical Society by Florence Grace Bentley Keach. Through the work of the Stonington Historical Society, a donation of $15,000 and five acres of land from Mrs. Keach, the building was saved and moved to its present location. The Inn was added to the National Register of Historic Places on April 12, 1979.

The mansion remained in the care of the Stonington Historical Society until 1996. Purchased and renovated, the Whitehall Mansion opened its doors to the public to become the premier historical inn of Mystic, Connecticut.